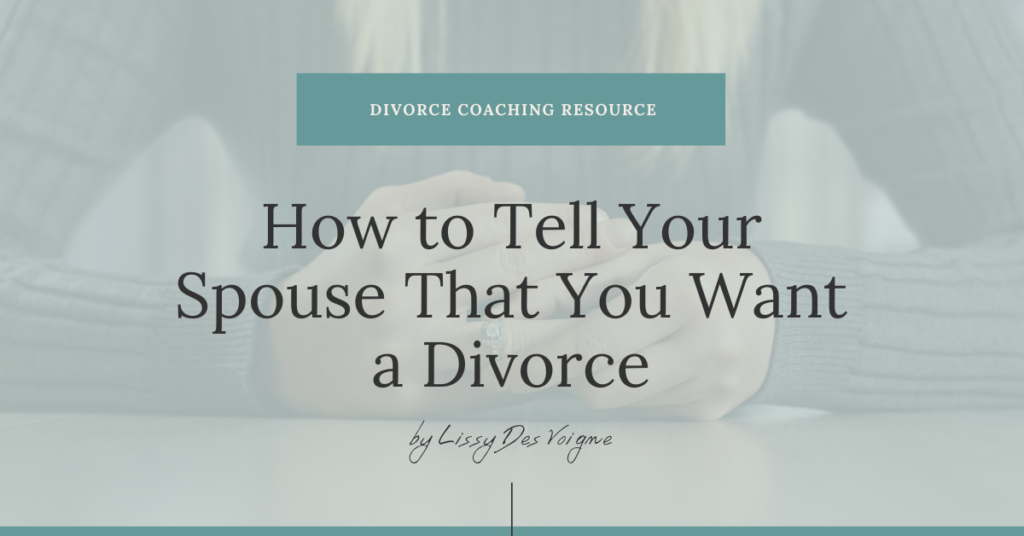 Making the decision to divorce is never easy, and it's a decision that one usually comes to after much, typically years of deliberation. With that final decision often comes a mix of emotions including fear, shame, guilt and even sadness, as well as a sense of hope that life will be improved for both parties on the other side. Once an individual has come to the decision to divorce, assuming it was their decision alone, the next big step is to inform their spouse and file for divorce. Depending on the situation these two steps can take place either sequentially or simultaneously.
For some, if the marriage is particularly volatile or there is any level of abuse or intimidation present, it may be wise to handle everything through an attorney. In this way, a confrontation can be avoided and the initiating spouse can find a safe place to stay while tempers cool and temporary arrangements can be made.
Be Calm, Honest and Direct
Whenever possible though we encourage our clients to deliver this news themselves in a calm, honest and direct way, which sets the tone for a healthy divorce. For many, this is an intimidating step to anticipate. Following are a few tips for how to prepare for breaking the news and asking your spouse for a divorce:
"Do not idly threaten divorce or fling it at your spouse in the midst of a heated argument. This decision should be made with care and thoughtful intention, ideally, after an honest attempt to work things out has been made. "

– Lissy Des Voigne | Divorce Coach at Divorce Strategies Northwest
1.) Make sure you are committed to this decision and that you have made it using logic and not emotion. Do not idly threaten divorce or fling it at your spouse in the midst of a heated argument. This decision should be made with care and thoughtful intention, ideally, after an honest attempt to work things out has been made.
2.) Avoid telling too many people before you tell your spouse. It can be challenging to contain this information and you want to make sure it does not get back to your spouse inadvertently. Along these lines, it is also very important to keep any written material or documentation regarding your thoughts or research of divorce confidential and safeguarded from being accidentally discovered. The last thing you want is for your spouse to come across this news or hear it from someone other than you.
3.) Write out and say out loud or role-play how you want to deliver the news. This is a great time to involve a coach if you have one to bounce ideas off of. Thinking out and practicing what you will say will increase your resolve and help alleviate some of your fears.
4.) Focus on using "I" statements and describe in a kind, calm and honest way how the problems of the marriage have brought you to this decision. Do not assign fault or blame or point out all of your spouse's personal failings, recent or past. 
5.) Acknowledge that your spouse also likely felt unsatisfied in the marriage by saying something like "As you know I have not been happy in our marriage and I think you may feel the same way."
An example of how you might deliver this news is: "As you know I have not been happy in our marriage for some time. I'm sure you are feeling unsatisfied too. This is not easy to say and it was a very difficult and painful decision to make but I have come to the conclusion that I can't continue in our marriage any longer and I would like a divorce. I know this will be hard for both of us and for our family, but I believe it is the best decision for everyone. I am confident that we can handle this in a respectful and amicable way for the sake of our children. "
6.) Choose a time and relatively private place where you will be uninterrupted and out of earshot of the kids to deliver the news.
7.) Stay calm, especially if your spouse's emotions begin to escalate. Do not retaliate and fight back, even in the heat of the moment. It is natural to want to defend yourself and justify your position, but doing so will not help you reach your desired outcome– a calm and respectful separation process and co-parenting relationship.
8.) Avoid specifics about how the separation process will work, where kids will spend Christmas, etc. Your spouse will need time and space to digest this information. There will be time to work out details later, and involve professional support if needed.
9.) If the situation becomes too intense, suggest a time out for both of you so you can revisit the subject when you can be calmer and rational way.
10.) Have an exit strategy in place. If current living arrangements become too uncomfortable, consider staying with a friend or at a hotel for a few days.
Carefully following the steps above can help you feel more prepared as you begin the discussion. But remember, as prepared as you are your spouse may not be. You've had time to ponder and adjust to the idea of divorce, your spouse has not and this news may come as a shock to him/her. Be patient and help your partner to process the many emotions that will likely arise. Stay firm in your decision, but compassionate in your response.
Remember that this is the first step in the process and will set the tone for the next steps. The more conciliatory and agreeable you can remain with one another throughout the divorce, the more you will minimize the financial and emotional cost of your divorce. 
Your Trusted Partner
If you and your ex-spouse are struggling with co-parenting, or perhaps you're in the initial divorce process, we're here for you.
We help you consider your options, arm you with practical information, and strategize with you how to navigate your divorce. Feel free to get in touch with us; we are always available to help!