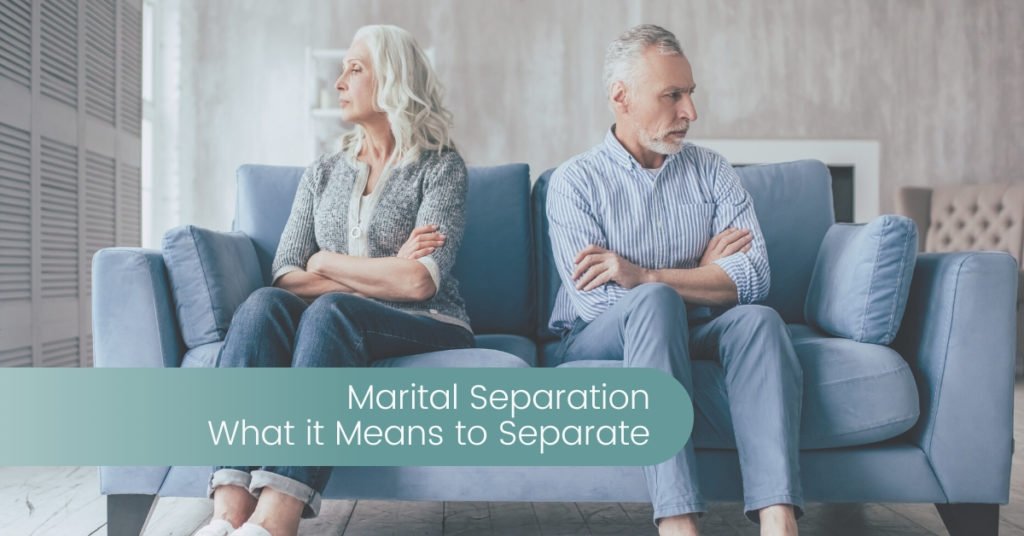 In the world of divorce, the concept of separation can be confusing. First of all, it is important to be aware that there are three different types of separation, and all have financial implications for a couple. When considering separation as an option, be sure you understand what each type entails, and the measures to take to protect yourself, your children and your assets.
Trial Separation
The first type of separation is a trial separation. A trial separation is when you and your spouse agree to live apart for a predetermined period of time as you work on either reconciling or determining whether to move towards divorce. Trial separations can be incredibly helpful if you are working on a marriage. Having time and space away from one another can give you much needed time to think and a gain new perspective. It can also help reduce arguments and help you find common ground, as you work to improve things. During this type of separation, it is often advisable for the couple to be in counseling together.
" When considering separation as an option, be sure you understand what each type entails and the measures to take to protect yourself, your children and your assets."

– Lissy Des Voigne | Divorce Coach at Divorce Strategies Northwest
Although nothing legally changes between you, since you are still legally married, it is highly advisable that you and your spouse draw up an agreement that will govern the rules of the separation. You will want to agree upon how the finances will work, will you continue to operate out of one joint account or do you intend to separate finances? Will one spouse help to support the other financially? Who will move out? If you have children what will the residential and visitation schedules look like? This agreement would not be court-ordered, it is simply used as an agreed-upon set of ground rules for you and your spouse to operate under during the separation. A divorce coach can be very helpful in working with you and your spouse to put this agreement together, and ensure everyone is heard.
Permanent Separation
Permanent separation is when you live apart from your spouse with no intention of reconciling. Not all states, including Washington state, recognize this. If you are in a state that recognizes permanent separation, you need to be aware of the financial implications with this form of separation. In a permanent separation, nothing official is filed with the court, but if you and your spouse have an agreed-upon date of separation all finances, both assets and liabilities, are considered separate after that date.
Legal Separation
In Washington state, you can file for what is known as a legal separation.  Unlike trial or permanent separations, legal separation is accomplished through a court order and is a legally binding consent decree. This means that for all intents and purposes a legal separation is much like a divorce. Similar to divorce, legal separation requires you and your spouse to negotiate custody, visitation, spousal support, child support, and property division. Unlike a divorce, with a legal separation you are still married, and unable to remarry without a divorce. Some couples choose legal separation first, because it feels less "final" than a divorce, or they are religiously or morally opposed to divorce, or they wish to retain or provide healthcare or tax benefits to or from their spouse.
Your Trusted Partner
If you and your ex-spouse are struggling with co-parenting, or perhaps you're in the initial divorce process, we're here for you.
We're here for you. We help you consider your options, arm you with practical information, and strategize with you how to navigate your divorce. Feel free to get in touch with us; we are always available to help!