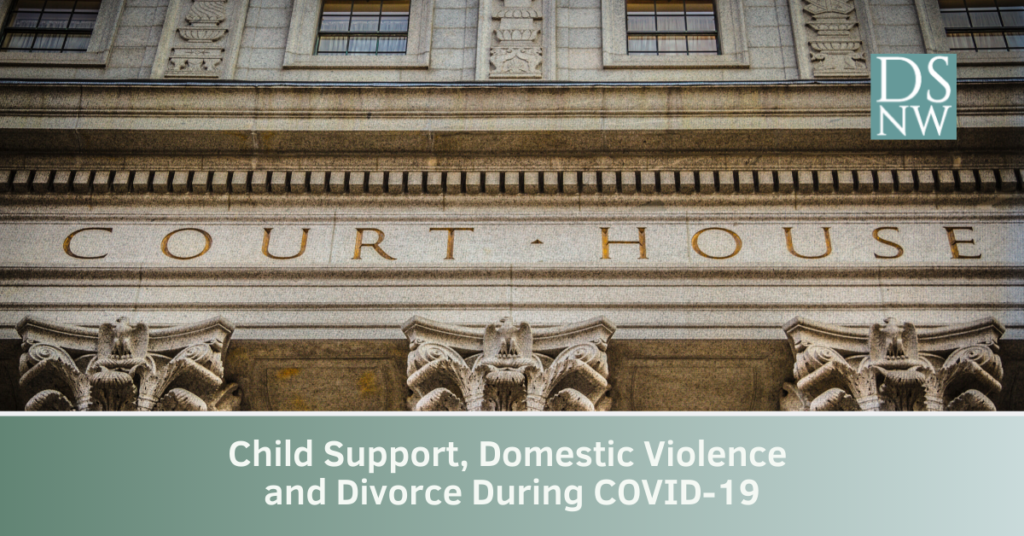 Important questions and answers on child support, domestic violence and divorce, during these dramatic times.
Child Support and Maintenance Payments
Am I obligated to pay child support if my income has been significantly reduced, or I have been laid off?
Child support and maintenance payments are still ordered to be paid in full during this time. Washington State can take legal action against those with a child support arrearage. If you have been laid off or have lost income during the crisis, you should contact the State's Division of Child Support by phone or email.
Parenting Plan
How are legal parenting plans affected by the COVID-19 crisis?
Sticking to the parenting plan is best; keeping things as normal as possible will ease the stress on the children. Washington State Governor Inslee's new "Stay Safe Stay Healthy Plan" allows you to transport your child to another family member for caretaking. Mike Faulk, a spokesperson for Governor Inslee, said the governor's order should not impact parenting plans at all.
Parents should continue to follow the schedule outlined in the legal parenting plan, as closely as possible. "People are allowed to leave their homes but are encouraged to limit travel," he said. Any disputes between parents over legally-binding parenting agreements should be handled in the usual way, in accordance with existing state laws (see article here).
If safety becomes an issue or exposure is compromised, always puts your children's safety and best interest first.
Pending Divorce Case
What is the status of my pending divorce case? Are all court hearings postponed?
Superior courts are still handling some matters, using telephonic or video conferencing, but King County Superior Court has canceled all civil trials scheduled through June 8, 2020. The King County Superior Court Clerk has updated information on its website.
By texting 741-741, you will find a live person to chat with regarding the uncertainty of COVID-19.
Domestic Abuse
What can be done about Domestic Abuse during the COVID-19 crisis?
Washington State's Governor's Stay at Home order specifically exempts victims of domestic violence, encouraging them to leave and seek a safe location. Shelters are still open and practicing good hygiene and social distancing to keep residents and families safe.
Orders of Protection and Restraining Orders can still be obtained through the courts and enforced during the crisis. More specifically, legal professionals are permitted to meet court and other filing deadlines, advise essential-sector clients, and preserve civil rights and protections (e.g., filing no-contact orders, Domestic Violence Protection orders).
For information on filing a Domestic Violence Protection Order on your own, you can contact the Protection Order Advocacy Program at the Superior Court by telephone: Seattle (206) 477-1103 or Kent (206) 477-3758.
Click here for information on how to seek a protection order by email.
By texting 741-741, you will find a live person to chat with regarding the pressures of COVID-19.
Moving Forward with Divorce
What can be done now, to start the divorce process?
There are some constructive things you can do now, to help you consider and/or prepare for divorce or legal separation.
Compile copies of all personal financial records:
Income documentation
Bank account statements
Retirement/investment account statements
Debts (credit card statements, loan statements and payoff values)
IRS tax returns for the last three years
Contact your health insurance customer service (or look online) and request a list of mental health therapists for yourself. Review the list of in-network therapists for office addresses that are convenient for you. Send inquires to a few therapists– ask if they have availability in their practice, if their schedule can work with yours, and determine if you like their communication style/approach. All this research can be done in confidence, and need not be discussed with your spouse at this time.
Many mental health professionals are working remotely, and can talk with you, even during quarantine. If you can find a private time to talk (like on a walk or in your car), be honest about your situation and how you are feeling. This can help diffuse stress, understand your emotions, and help you determine a path forward.
By texting 741-741, you will find a live person to chat with regarding the stress of COVID-19.
Your Trusted Partner
Whether you're contemplating a divorce, have already started the process, or are far into the proceedings, do you wish you had someone to share with you the inside scoop on how to save money, time and emotional energy on your divorce?
Our team is available for a complimentary virtual consultation to discuss the many scenarios, options and implications of separation or divorce, via telephone or videoconference during this time. Feel free to get in touch with us; we are here for you!