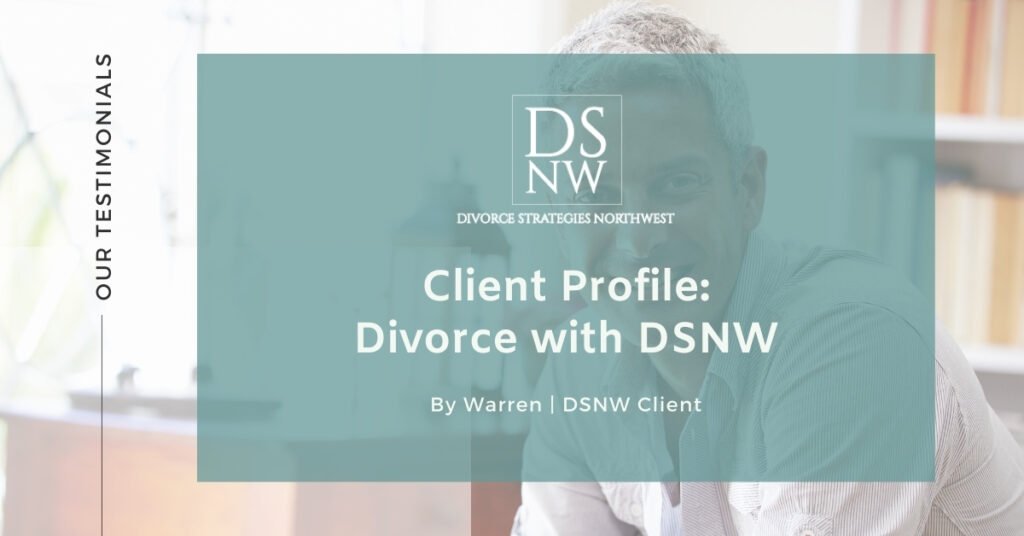 I considered divorce for many years. My wife and I had built a big life with a beautiful family, many friends, and had created success together. Like many, we had our ups and downs, but we stayed together. Over the years, I felt no hatred for my wife, but something felt off. I talked with people, we worked with therapists, traveled together, all in search of… the cure. No matter what we did, I felt unfulfilled and unhappy in our marriage.
When I chose to pursue divorce, I knew it would cause waves. To my relief and surprise, our adult children were supportive of us both. My wife's first instinct was the same as mine—call an attorney… a "shark", as they say.
We each left our respective legal consultation meetings feeling that litigation was not the route for us. We didn't want to attack each other, nor destroy all we had built together… a loving family, a thriving business, and a large group of supportive friends. We had a lot to lose.
We were referred to Divorce Strategies Northwest by a friend of my wife's. When we began working with DSNW, they shared their goals for us:
Keep us out of court
Be fair + civil to each other
Divide our assets equitably—lower fees meant more money + property to divide between us
Help us learn to amicably communicate and interact, post-divorce
Maintain positive relationships with our children, independent of each other
Keep our complex divorce settlement discreet, private, and out of public record
I was skeptical at first… but I was wrong.
Through our work with Leah and her team, we learned skills an attorney would not have taught us, and we never attacked each other. Our friends and families were not put in the middle, our business remained intact, our finances were not destroyed, and we have separated on good terms. There was no acrimonious battling—the process was swift, efficient, and fiscally responsible.
DSNW has curated an A-list of vetted vendors to whom they referred us for specific needs that arose during the dissolution process. No matter how you approach it, divorce is stressful, and there was pain along the way. DSNW's dedicated support, leadership, and professional relationships removed the overwhelm. Our final decree is legally memorialized in a way that we both feel good about.
Since our divorce, we have faced a family death and celebrated an important family wedding. While she is no longer my wife, I am proud to say that on both momentous occasions, I sat and held hands with my children's mother. She will always be important to me, as we shared so much.
We have now turned the page to a new chapter of our lives. I am excited to see what life has in store… for us both! Independence feels strange but exciting. I am incredibly grateful to the DSNW team for saving us hundreds of thousands in legal fees, for exceeding the goals they described to us, and most importantly, for helping us transition into our new normal, as friends.
– Warren | Divorce Strategies Northwest Client
Your Trusted Partner
Whether you're contemplating a divorce, have already started the process, or are far into the proceedings, do you wish you had someone to share with you the inside scoop on how to save money, time, and emotional energy on your divorce?
Our team is available for Support On-Demand to discuss the many scenarios, options, and implications of separation or divorce, via telephone or videoconference during this time. Feel free to get in touch with us; we are here for you!