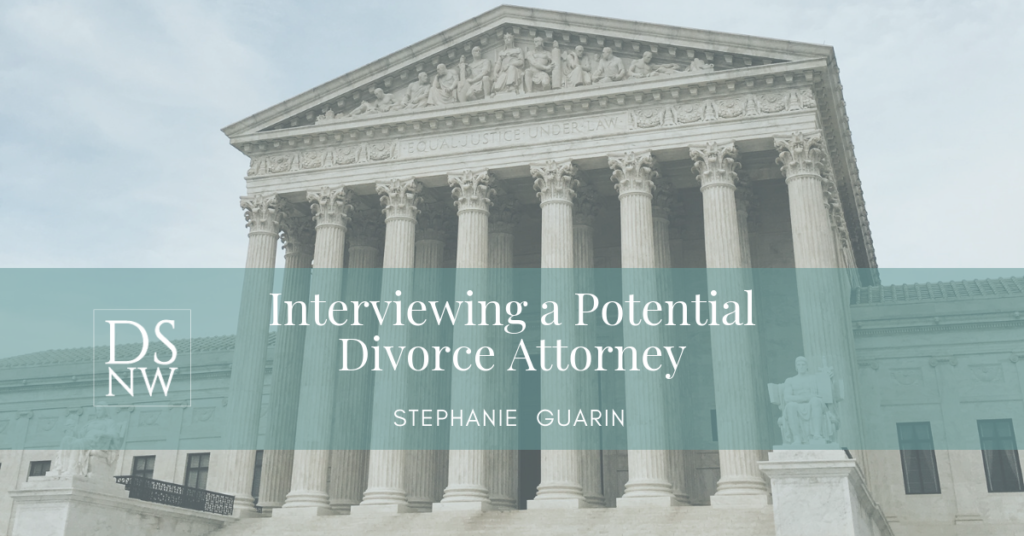 Dissolution is an emotional, intense and overwhelming process. For many reasons, selecting an attorney who is the right fit for you and for your case is imperative to success.
When choosing a divorce attorney (family law attorney), there are many options to choose from; it can be difficult to determine which attorney is right for your case and to represent you. While people have a variety of legal needs and preferences, the first step is to determine the type of legal service that's right for your case. Try to narrow down a list of attorneys to interview to three or less. Before retaining their services, interview each attorney (either in person or virtually).
To meet with a prospective divorce attorney, start by requesting a consultation appointment.
Before Your Appointment
Many attorneys charge a consultation fee ranging anywhere between $100 and $550. This is not uncommon and should not deter you. Determine what the consultation fee will be in advance, so you are prepared to make the payment at the time of your consultation meeting. Also, it is wise to ask a prequalification question or two on the phone, before you commit to a consultation appointment.
If your case involves any of the following issues, ask each attorney do you handle divorce cases involving (see list below)?
Child Custody: Not every family law attorney will take on a case involving children and the complexities of child custody. If you share custody of a minor child / children, you will need an experienced attorney willing to advocate on your behalf in child custody, draft a parenting plan, explain shared expenses and help you understand your rights regarding child support.
Domestic Abuse: Some attorneys will not take on a case involving Domestic Abuse (also known as Domestic Violence or DV). If your case involves any kind of domestic abuse, be honest with an attorney in advance. You need someone who is knowledgeable, empathetic and comfortable advocating for you.
High-Conflict: Not all attorneys are willing to handle high-conflict, contentious, highly acrimonious cases.
Financially Complex: If you and your spouse have complex estate issues, own a business / multiple businesses together, have tax complications, etc., it is wise to choose an attorney with experience and acumen in this area.
Mental Illness / Disability: If either you or your spouse have been court-ordered to receive a psychological evaluation and / or have been deemed legally mentally disabled, confirm that the attorney is capable and willing to manage these complexities.
Current Legal Cases: If you or your spouse are currently involved in another legal case of any nature, it's best to bring this up right away. Ask if the divorce attorney is able to take on a dissolution case with a separate court matter taking place concurrently (such as DUI, business law, tax issues, etc).
When it comes to legal counsel, it can be true that you get what you pay for. If your marriage is short terms, involves no minor children, no conflict and very few variables, mediation is a more appropriate solution.
Spend time online researching each attorney you are considering for your case. Read their website, review their experience, check out client and peer reviews, and research any past or pending disciplinary action against each attorney. The choice of who will represent you is very important; doing advance homework will benefit your future.
During Your Appointment
To find the right person to represent you and your interests, ask the following questions of each attorney you consider.
1. Do you practice family law exclusively?
Many attorneys practice other areas of law in addition to family law. If family law is not their exclusive area of practice, ask what percentage of their cases are family law.
Family laws differ from state to state; it is important that your legal representative understands the most recent legislative updates that could affect your dissolution case. Ask each attorney how long they have been practicing family law in Washington State.
Attorneys who "dabble" in family law along with other disciplines often have less experience in family court and may not be the best representative for you in your divorce case.
2. What is your practice philosophy?
It is important that your attorney's philosophy matches your needs and expectations.
Listen for words like excellence, commitment, advocate, communication, promptness, and sense of urgency.
Red flags might be: inexpensive, quick, budget or, "winning is our highest priority."
When it comes to legal counsel, it can be true that you get what you pay for. If your marriage is short terms, involves no minor children, no conflict and very few variables, mediation is a more appropriate solution.
In family law, "winning" should illicit some follow-up questions from you. Winning could translate to "winning at any cost". This aggressive approach generally means a long, grueling, expensive divorce where the only true "winner" is the attorney. Combative litigation is intense, expensive, hard on both parties and the entire family.
3. How often do your dissolution cases go to trial, and how much experience do you have in Washington State family court?
Should it become necessary to go to trial, you want an attorney with experience in litigation.
That said, an attorney who frequently goes to trial may not be the best fit, especially if you and your spouse wish to be amicable (mediation may be a better fit for you).
4. Can you explain your fees and fee structure? Can you provide an estimate of how much I might pay in legal fees?
Some attorneys charge a retainer fee in advance, which covers a specific amount of time / set of services. Outside of that agreement, their clients are charged an hourly rate with a set minimum time increment (i.e.15-minute increment charge, even for a <5 minute phone call).
5. Will you be managing my divorce case, or will I be working primarily with an associate?
Many experienced attorneys have a staff of associates (junior associate attorneys and paralegals) who are working under their supervision. This allows a law firm to take on more cases and charge clients with less transparency.
If you are concerned, ask for the relevant experience of the associate and support staff who will be assigned to your case.
If it is important to you that to have only one attorney working on your case, make this request in advance, to avoid frustration once your case is underway.
6. Are there other peripheral professionals that would likely be assigned to my case? (example would be a CPA or a forensic accountant) If so, does the divorce attorney know them well? What do these professionals charge (on average)? Will their fees be billed to me with an additional mark up?
Clarifying these details may feel awkward but will prevent frustration, confusion and resentment later on.
Understanding this information allows you to accurately compare attorneys, their expertise and their approach to your case.
7. Should I need to talk with you during my divorce process, what is the best way for me to contact you? How available are you? If I leave a message or email, how long should I expect to wait for a response?
Attorneys are busy. They cannot always take each and every call that they receive, but they should be able to tell you definitively how available they will be and when to expect a response.
8. Will I be able to act as a partner in my divorce process? Will you be open to answering my questions and providing copies of documents upon my request?
Some attorneys are more accommodating than others regarding their clients' questions and requests for information. Make sure that the attorney you choose is willing to work with your needs.
Because it takes more labor time to copy documents and respond to your questions, you should expect to be billed for this time, unless you've made other arrangements with your attorney.
9. If your partner has hired legal counsel, ask each attorney you interview if they have worked with, have experience with, and/or are aware of opposing counsel (in your case).
The working relationship between attorneys can be an important factor in their ability to resolve your case. Knowledge about your partner's legal representation can be extremely helpful in planning your strategic approach, next steps, etc.
Throughout each consultation meeting, take note of your instinctual / gut feelings regarding the attorney and their staff.
Consider the following:
Do you feel comfortable in your interactions with the attorney and their team?
Does the attorney appear engaged and transparent with you?
Does the attorney offer strategic leadership regarding how they would approach your case?
Are you satisfied with the answers given in your conversation(s) with the attorney?
Do you feel like the attorney is hiding something or skirting around a question?
Do you feel rushed, or as if you're a bother?
Does the attorney have the experience, knowledge and expertise needed for your case?
Do you see yourself working with this attorney in a productive, effective manner?
Divorce is overwhelming, intense and emotional, even in the most amicable of cases. You need an attorney who brings experience, empathy and with whom you feel a connection. Your attorney is your representative and your ally. Aligning expectations and determining the best fit for you is essential to a positive outcome for your case, your peace of mind and your future.
Your Trusted Partner
Whether you're contemplating a divorce, have already started the process, or are far into the proceedings, do you wish you had someone to share with you the inside scoop on how to save money, time and emotional energy on your divorce?
We're here for you. We help you consider your options, arm you with practical information, and strategize with you how to navigate your divorce. Feel free to get in touch with us; we are always available to help!