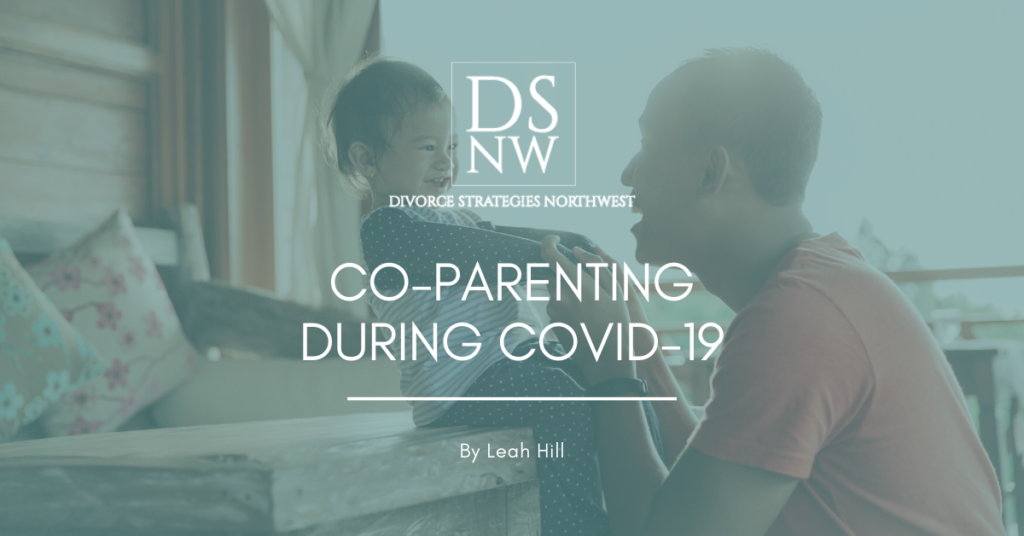 Co-parenting can be challenging in the best of times, and even harder during times of pandemic.
Around the world, everyone is finding a new normal, during the crisis of COVID-19. This is true for individuals, and for divorced parents who are co-parenting. Keeping these best practices in mind can support your efforts to survive these unprecedented times.
Be flexible.
Many people have lost jobs, income and health care. Those fortunate enough to still have their jobs are trying to balance working from home while wrangling littles and/or supporting homeschooling children. Others are valiantly working on the front lines of this crisis. All of this requires an understanding that things may not go as planned.
Drop-offs and pick-ups are not happening at school, and one or both of you might be running late, due to circumstances beyond your control. It can be easy to fall into the familiar pattern of blaming each other. Try hard to use your most generous lens and magnanimous interpretation— doing so will pay off for everyone.
Be patient.
Be patient with yourself, your children and your co-parent. Be gentle with yourself, when things don't go according to plan. Be patient with your children. They are experiencing a crisis, as well as having lost their normal routines of school, friendships, and extracurricular activities. Older children will hear the news and may need help processing grief, anger and sadness. Be patient with your co-parent who may be struggling, and in need of a teammate, for the sake of your children. Your children and their needs must come first.
Younger children are experiencing new stressors, even if they don't understand the concept of a pandemic. Some children will show increased anxiety or regressed behaviors (e.g. with potty training, bedwetting, independent sleeping). Teenagers may show increased irritability. Remembering the source of all this anxiety can help you respond more compassionately, even if the behavior seems irrational.
Be realistic.
Be realistic about your expectations for yourself and your kids. No parent who is simultaneously trying to do a job and home school will be thrilled with their performance. Be realistic about when you work, and how much work can get done. Be realistic about how home learning will go in your household. Be realistic that screen time is going to increase, siblings are going to fight and your nerves will wear thin.
It is important to stay healthy, both physically and emotionally during this time. Access your personal and professional support systems, so that you can continue to support your children in positive ways. Being patient with yourself and your family, as you all adjust to a new "normal". Do your best to maintain your own mental health, peace, and a positive attitude. It is critical during stressful times to find healthy ways to achieve self-care.
Our world is changing daily. During a crisis, more so than at any other time, we are either part of the problem or part of the solution.
Your Trusted Partner
Whether you're contemplating a divorce, have already started the process, or are far into the proceedings, do you wish you had someone to share with you the inside scoop on how to save money, time and emotional energy on your divorce?
Our team is available for a complimentary virtual consultation to discuss the many scenarios, options and implications of separation or divorce, via telephone or videoconference during this time. Feel free to get in touch with us; we are here for you!