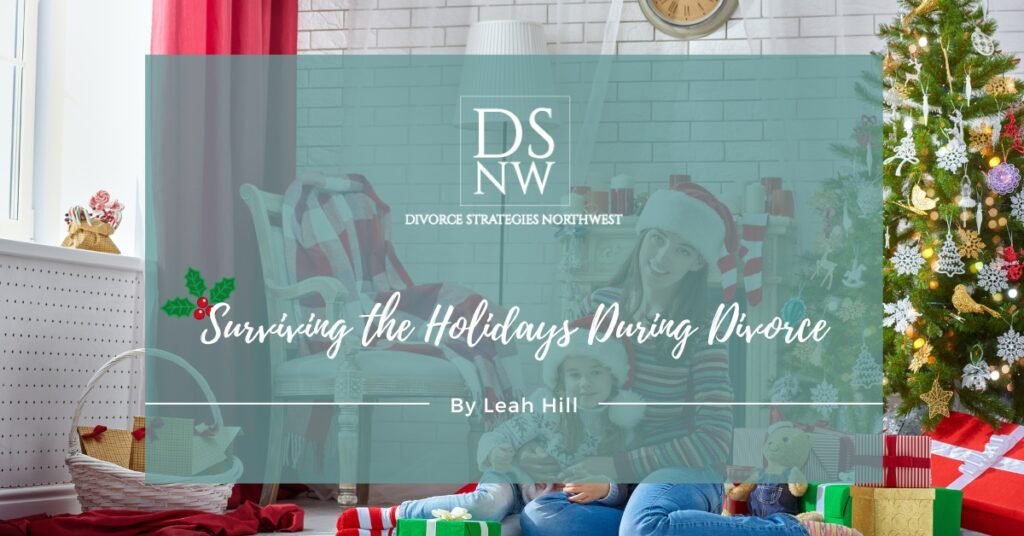 Wondering how to survive the holidays during divorce?
The holiday season is challenging in many ways. Expectations, extra expenses, pressures from family, your kids, and yourself, memories, dealing with loss… it's a lot. The stress of divorce can make the holidays even more challenging to survive, much less enjoy. Following are a few tips for managing the holidays while involved in family law proceedings.
Plan Ahead
Plan to spend vacations, special events, traditions, and holiday celebrations with your children during your parenting time. If your plans require a scheduling trade with your co-parent, submit your request as much advance notice as possible. Provide your co-parent with an equivocal trade (if you request a weekend night, offer to trade a weekend night). Doing so builds trust between you. It's healthy for your children to see you and your co-parent working together to create a new normal for your family.
Start New Traditions
Family traditions are an important part of the holidays. Work to create new traditions with your children or resurrect historical traditions that you recall from your own childhood. This builds foundation and community, which counteract the chaos of divorce.
Work to create new traditions with your children or resurrect historical traditions that you recall from your own childhood. This builds foundation and community, which counteract the chaos of divorce.

Leah Hill, Founder + CEO, Divorce Strategies Northwest
Take Time for Yourself
Taking a few minutes for yourself every day is critical, especially during the holidays. This can be as simple as enjoying a soothing cup of tea, taking a brisk walk, meditation, or singing in the car.
Avoid Overindulging and Self-Medicating
The holidays can bring on the blues, regardless of what is going on in your personal life. While often intended as a numbing agent, adding substances (drugs / alcohol) rarely helps with feelings of isolation, and often adds new problems and complexities to your life. Find other ways to feel good like exercise, a good book or movie, video games, or prepare a yummy treat to share with a friend.
Smile and be Kind to Others
It may feel counterintuitive when dealing with a difficult situation, but studies have shown that forcing yourself to smile and intentionally being kind can lift your spirits when you are feeling down. Another great way to beat the holiday blues is by volunteering. Focusing on others helps bring into focus what is truly important in life, while adding value to your community.
Be Intentional With Your Kids
Never involve nor discuss with your children court proceedings / conflict / adult issues. Children are perceptive and often observe nonverbal cues from their parents. Kids can sense when their parents are experiencing stress. Spend quality time with your children doing things they enjoy. Try to speak positively about your co-parent and if you can't, avoid the subject. Remember, when you speak negatively to your child about your co-parent, you are insulting your child at the same time.
Take a Break From Divorce Details
Divorce is intense. Give yourself a break and take time to spend time with friends, plan the details of a future vacation or take time to catch up on sleep. Do something for yourself. The tangle of divorce will still be there when the new year begins.
Reach Out to Friends / Family / Therapist
A good support system is necessary for surviving life's challenges. When you're feeling down, it can be tempting to isolate yourself. Push through this feeling and reach out to friends, family or a skilled therapist. Honestly discuss your feelings, pain and concerns surrounding your family's transition and how the complexities are affecting you. It's brave and wise to seek help and admit that you're not ok. Being vulnerable can carry you through dark times and leave you feeling lighter. Better days are ahead!
Divorce is a marathon, not a sprint. Surviving the holidays and divorce? You got this! Remind yourself that nothing lasts forever and you are not alone.
Your Trusted Partner
Whether you're contemplating a divorce, have already started the process, or are far into the proceedings, do you wish you had someone to share with you the inside scoop on how to save money, time, and emotional energy on your divorce?
Our team is available for Support On-Demand to discuss the many scenarios, options, and implications of separation or divorce, via telephone or videoconference during this time. Feel free to get in touch with us; we are here for you!